The
End Time
Messenger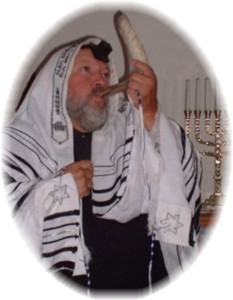 BELIEVE
THE PROPHETS
AND LIVE
By
Prophet T. E. Deckard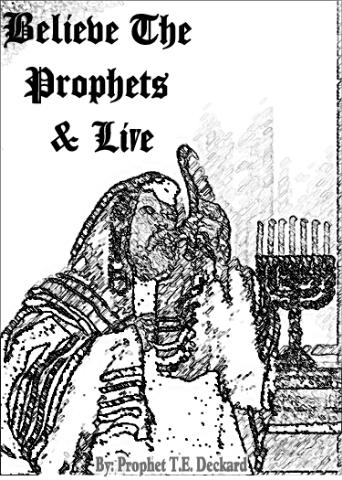 Isaiah 54:17
17 No weapon that is formed against thee shall prosper; and every tongue that shall rise against thee in judgment thou shalt condemn. This is the heritage of the servants of the LORD, and their righteousness is of me, saith the LORD.
There is nothing that could ever come against us that will overcome us. That is what G-d wants us to know in these perilous times that we live in. However, G-d has always given His people direction to escape what He permits to come as judgments to this earth.
II Chronicles 20:20
20 And they rose early in the morning, and went forth into the wilderness of Tekoa: and as they went forth, Jehoshaphat stood and said, Hear me, O Judah, and ye inhabitants of Jerusalem; Believe in the LORD your God, so shall ye be established; believe his prophets, so shall ye prosper.
Believing G-d will establish us with Him, but it will take believing His prophets if we are going to prosper. The prophets are the mouthpieces of G-d. G-d gives them the direction of where He is taking His people and how to get them where He wants them to go. They alone know and that is where a great problem has developed. In todayís Church there are so many voices rising up saying G-d is saying this and G-d is saying that. It is virtually impossible to know what G-d is or is not saying. Most people believe if a minister has a large following they must be of G-d and hearing from G-d. There are some truths to this, but that does not mean that this type of minister is a prophet of G-d.
Prophets Give Signs...
...Warning of What is to Come
The prophets have always given signs to warn of what is coming. Prophets have not been nor will ever be popular. They are only interested in giving what G-d has dropped into their spirits to the people. Because of this they are seldom seen as being right in the eyes of the people.
Amos 3:7
7 Surely the Lord GOD will do nothing, but he revealeth his secret unto his servants the prophets.
Notice that G-d does not reveal His secret to pastors, evangelists, or teachers. Herein seems to be the problem.
Ephesians 4:1-16
1 I therefore, the prisoner of the Lord, beseech you that ye walk worthy of the vocation wherewith ye are called,
2 With all lowliness and meekness, with longsuffering, forbearing one another in love;
3 Endeavouring to keep the unity of the Spirit in the bond of peace.
4 There is one body, and one Spirit, even as ye are called in one hope of your calling;
5 One Lord, one faith, one baptism,
6 One God and Father of all, who is above all, and through all, and in you all.
7 But unto every one of us is given grace according to the measure of the gift of Christ.
8 Wherefore he saith, When he ascended up on high, he led captivity captive, and gave gifts unto men.
9 (Now that he ascended, what is it but that he also descended first into the lower parts of the earth?
10 He that descended is the same also that ascended up far above all heavens, that he might fill all things.)
11 And he gave some, apostles; and some, prophets; and some, evangelists; and some, pastors and teachers;
12 For the perfecting of the saints, for the work of the ministry, for the edifying of the body of Christ:
13 Till we all come in the unity of the faith, and of the knowledge of the Son of God, unto a perfect man, unto the measure of the stature of the fulness of Christ:
14 That we henceforth be no more children, tossed to and fro, and carried about with every wind of doctrine, by the sleight of men, and cunning craftiness, whereby they lie in wait to deceive;
15 But speaking the truth in love, may grow up into him in all things, which is the head, even Christ:
16 From whom the whole body fitly joined together and compacted by that which every joint supplieth, according to the effectual working in the measure of every part, maketh increase of the body unto the edifying of itself in love.
In verse 11, we find that the body of Christ has been given five offices. Each one of these offices are appointed and guided by G-d. They all function differently but to the same cause. These ministers are for the perfecting of the saints. Verse 14 tells us that having the five different ministries in the Church will keep us from being tossed to and fro, and carried away with every wind of doctrine, by the sleight of men.
The pastors are best known in todayís Church because they have been around and have been accepted for many years. They are to oversee the Church and comfort the saints. Pastors are like the mother image. They have a heart to care for the people. The evangelist is set by G-d to stir the Church and keep them in mind of G-dís salvation plan for all mankind. Many have mistaken the evangelist for the prophet because of his great ability to preach and often work in the gifts of G-d. The teacher teaches G-dís word to the Church and is relentless in his pursuit to do so. The apostle is the government of the Church and he rules over the Church to see that all is in G-dís right order. The apostles are just now beginning to show themselves to the Church. After the apostles are established back into the Church, it will be much easier for the prophets to do what G-d wants done. All of these offices should be taking what the prophets are saying and exhorting upon these things. However, the Church is a ways from being able to do this. But as I said, when the apostles arrive on the scene it will happen.
The biggest problem this prophet sees at the moment is getting the people to recognize who the prophets are and even more importantly who they are not. It is a shame to think that many saints are going to go to early graves because they are listening to ministers that are not the true prophets of G-d.
Prophets are not popular. They are outcasts for the most part. They never seem to fit into any of the Church's plans. The reason for this is that prophets are far out in front of the Church trying to get them to come and follow where G-d in now taking the Church. Prophets in the past and even today are spoken against and not accepted by the Church. Prophets of today are not over large congregations and popular among the people because they are hearing what G-d is about to do and the Church does not know this information. So, they refuse to listen. It saddens me to know that many are going to have to suffer before they are ready to listen to G-dís prophets. That seems to be the way that it has always been.
Does the Church Know...
...There is a Prophet in our Midst
II Kings 5:1-16
1 Now Naaman, captain of the host of the king of Syria, was a great man with his master, and honourable, because by him the LORD had given deliverance unto Syria: he was also a mighty man in valour, but he was a leper.
2 And the Syrians had gone out by companies, and had brought away captive out of the land of Israel a little maid; and she waited on Naaman's wife.
3 And she said unto her mistress, Would God my lord were with the prophet that is in Samaria! for he would recover him of his leprosy.
4 And one went in, and told his lord, saying, Thus and thus said the maid that is of the land of Israel.
5 And the king of Syria said, Go to, go, and I will send a letter unto the king of Israel. And he departed, and took with him ten talents of silver, and six thousand pieces of gold, and ten changes of raiment.
6 And he brought the letter to the king of Israel, saying, Now when this letter is come unto thee, behold, I have therewith sent Naaman my servant to thee, that thou mayest recover him of his leprosy.
7 And it came to pass, when the king of Israel had read the letter, that he rent his clothes, and said, Am I God, to kill and to make alive, that this man doth send unto me to recover a man of his leprosy? wherefore consider, I pray you, and see how he seeketh a quarrel against me.
8 And it was so, when Elisha the man of God had heard that the king of Israel had rent his clothes, that he sent to the king, saying, Wherefore hast thou rent thy clothes? let him come now to me, and he shall know that there is a prophet in Israel.
9 So Naaman came with his horses and with his chariot, and stood at the door of the house of Elisha.
10 And Elisha sent a messenger unto him, saying, Go and wash in Jordan seven times, and thy flesh shall come again to thee, and thou shalt be clean.
11 But Naaman was wroth, and went away, and said, Behold, I thought, He will surely come out to me, and stand, and call on the name of the LORD his God, and strike his hand over the place, and recover the leper.
12 Are not Abana and Pharpar, rivers of Damascus, better than all the waters of Israel? may I not wash in them, and be clean? So he turned and went away in a rage.
13 And his servants came near, and spake unto him, and said, My father, if the prophet had bid thee do some great thing, wouldest thou not have done it? how much rather then, when he saith to thee, Wash, and be clean?
14 Then went he down, and dipped himself seven times in Jordan, according to the saying of the man of God: and his flesh came again like unto the flesh of a little child, and he was clean.
15 And he returned to the man of God, he and all his company, and came, and stood before him: and he said, Behold, now I know that there is no God in all the earth, but in Israel: now therefore, I pray thee, take a blessing of thy servant.
16 But he said, As the LORD liveth, before whom I stand, I will receive none. And he urged him to take it; but he refused.
This is a great illustration of the king of Israel being as the Church of today. He did not know of Elisha the prophet of G-d and that he was in the midst of Israel. Naaman did not like what the prophet sent through his messenger. He came very close to not receiving the cleaning of his leprosy because he had refused to do as the prophet told him. It took him doing exactly as Elisha directed for him to be cleansed. This is the way it is going to work in this day and age. Do as the prophets direct and prosper!
G-d Requires Strict Obedience...
Prophets have to stay the course if they are going to please G-d. They cannot be persuaded by anything or anybody to do differently of what G-d has told them to do.
I Kings 13:1-26
1 And, behold, there came a man of God out of Judah by the word of the LORD unto Bethel: and Jeroboam stood by the altar to burn incense.
2 And he cried against the altar in the word of the LORD, and said, O altar, altar, thus saith the LORD; Behold, a child shall be born unto the house of David, Josiah by name; and upon thee shall he offer the priests of the high places that burn incense upon thee, and men's bones shall be burnt upon thee.
3 And he gave a sign the same day, saying, This is the sign which the LORD hath spoken; Behold, the altar shall be rent, and the ashes that are upon it shall be poured out.
4 And it came to pass, when king Jeroboam heard the saying of the man of God, which had cried against the altar in Bethel, that he put forth his hand from the altar, saying, Lay hold on him. And his hand, which he put forth against him, dried up, so that he could not pull it in again to him.
5 The altar also was rent, and the ashes poured out from the altar, according to the sign which the man of God had given by the word of the LORD.
6 And the king answered and said unto the man of God, Intreat now the face of the LORD thy God, and pray for me, that my hand may be restored me again. And the man of God besought the LORD, and the king's hand was restored him again, and became as it was before.
7 And the king said unto the man of God, Come home with me, and refresh thyself, and I will give thee a reward.
8 And the man of God said unto the king, If thou wilt give me half thine house, I will not go in with thee, neither will I eat bread nor drink water in this place:
9 For so was it charged me by the word of the LORD, saying, Eat no bread, nor drink water, nor turn again by the same way that thou camest.
10 So he went another way, and returned not by the way that he came to Bethel.
11 Now there dwelt an old prophet in Bethel; and his sons came and told him all the works that the man of God had done that day in Bethel: the words which he had spoken unto the king, them they told also to their father.
12 And their father said unto them, What way went he? For his sons had seen what way the man of God went, which came from Judah.
13 And he said unto his sons, Saddle me the ass. So they saddled him the ass: and he rode thereon,
14 And went after the man of God, and found him sitting under an oak: and he said unto him, Art thou the man of God that camest from Judah? And he said, I am.
15 Then he said unto him, Come home with me, and eat bread.
16 And he said, I may not return with thee, nor go in with thee: neither will I eat bread nor drink water with thee in this place:
17 For it was said to me by the word of the LORD, Thou shalt eat no bread nor drink water there, nor turn again to go by the way that thou camest.
18 He said unto him, I am a prophet also as thou art; and an angel spake unto me by the word of the LORD, saying, Bring him back with thee into thine house, that he may eat bread and drink water. But he lied unto him.
19 So he went back with him, and did eat bread in his house, and drank water.
20 And it came to pass, as they sat at the table, that the word of the LORD came unto the prophet that brought him back:
21 And he cried unto the man of God that came from Judah, saying, Thus saith the LORD, Forasmuch as thou hast disobeyed the mouth of the LORD, and hast not kept the commandment which the LORD thy God commanded thee,
22 But camest back, and hast eaten bread and drunk water in the place, of the which the LORD did say to thee, Eat no bread, and drink no water; thy carcase shall not come unto the sepulchre of thy fathers.
23 And it came to pass, after he had eaten bread, and after he had drunk, that he saddled for him the ass, to wit, for the prophet whom he had brought back.
24 And when he was gone, a lion met him by the way, and slew him: and his carcase was cast in the way, and the ass stood by it, the lion also stood by the carcase.
25 And, behold, men passed by, and saw the carcase cast in the way, and the lion standing by the carcase: and they came and told it in the city where the old prophet dwelt.
26 And when the prophet that brought him back from the way heard thereof, he said, It is the man of God, who was disobedient unto the word of the LORD: therefore the LORD hath delivered him unto the lion, which hath torn him, and slain him, according to the word of the LORD, which he spake unto him.
Sometimes lessons are hard-learned, and this is given to all prophets to understand that we walk and hear directly from G-d. We need to follow after Him and not be lead astray by other sources. People often try to get me to say G-d is telling me this or that as to their words. I never fall into that trap. If they believe G-d is telling them something then they need to tell the people so.
The Dispensation of Grace Will End...
...We Must Properly Apply the Blood
As G-d has shown me the next great plague that is going to cross this world, I have warned the people and told them that there is a way to escape. This plague is only one in a number of judgments that is coming in these last days. The Dispensation of Grace is quickly coming to an end. The Church is going to have to find a way to explain to the people that they do not have the answers for what has now come forth.
G-d is moving His people toward the returning of His Son. We are going to fulfill the scriptures of the last days and there is nothing you, I, or the Church can do about it. We desperately need to hear from heaven and in order to do that we are going to have to hear and believe the prophets.
There is a way to escape this coming plague as I have outlined. Read and study the article that I wrote "The Horsemen of the Apocalypse". I now want to discuss preparation for this coming plague. Everything that G-d has ever referred to always directs us back to Egypt. It would be important to understand that this is no different. The children of G-d were told to cover the doorposts and lintels with the blood of the lamb that they were to sacrifice. We know that Yeshua (Jesus) became that lamb. It is His blood that covers us and through the Dispensation of Grace we have been covered as they were then. Remember that the tribe of Judah, because of their being blinded by G-d has tried to use the blood used in Egypt throughout all these years to no avail. It no longer works because G-d has moved on. The Church, which is primarily Ephraim, has according to scripture also been blinded. Their blinding has been that the blood of Yeshua (Jesus) would be all that they would ever need. Notice the irony, both sides have been blinded because of the blood. That did not happen by chance. It has all been done by our living G-d. As the Dispensation of Grace ends, then the blood of Yeshua (Jesus) will not cover and do as it did throughout this period. His blood will still cleanse our sin and get us to heaven, but it will not protect us as it did throughout this same period. It could be said that the Dispensation of Grace was a time set by G-d for us to get things right with G-d.
Prophets Given Instruction for Escape...
...Preparation is the Key
Genesis 6:11-22
11 The earth also was corrupt before God, and the earth was filled with violence.
12 And God looked upon the earth, and, behold, it was corrupt; for all flesh had corrupted his way upon the earth.
13 And God said unto Noah, The end of all flesh is come before me; for the earth is filled with violence through them; and, behold, I will destroy them with the earth.
14 Make thee an ark of gopher wood; rooms shalt thou make in the ark, and shalt pitch it within and without with pitch.
15 And this is the fashion which thou shalt make it of: The length of the ark shall be three hundred cubits, the breadth of it fifty cubits, and the height of it thirty cubits.
16 A window shalt thou make to the ark, and in a cubit shalt thou finish it above; and the door of the ark shalt thou set in the side thereof; with lower, second, and third stories shalt thou make it.
17 And, behold, I, even I, do bring a flood of waters upon the earth, to destroy all flesh, wherein is the breath of life, from under heaven; and every thing that is in the earth shall die.
18 But with thee will I establish my covenant; and thou shalt come into the ark, thou, and thy sons, and thy wife, and thy sons' wives with thee.
19 And of every living thing of all flesh, two of every sort shalt thou bring into the ark, to keep them alive with thee; they shall be male and female.
20 Of fowls after their kind, and of cattle after their kind, of every creeping thing of the earth after his kind, two of every sort shall come unto thee, to keep them alive.
21 And take thou unto thee of all food that is eaten, and thou shalt gather it to thee; and it shall be for food for thee, and for them.
22 Thus did Noah; according to all that God commanded him, so did he.
G-d told Noah what was about to happen and also gave him instructions as to how to escape the coming disaster. I have always imagined how Noah must have looked to all the rest of the people. Noah was telling them there was a flood coming and yet at that time there had not been rain on the earth. There was a mist that covered the earth, but it had never rained. Talk about trying to tell people about something that they knew nothing about! Not only was Noah telling them it was going to rain, but he was also telling them that it was going to flood the earth. People must have laughed as Noah was building a boat in the middle of what was then a desert.
Noah had to follow G-dís plan and do everything as He directed or he and his family would have also died. Noah had to prepare and we are going to have to prepare also for this coming plague.
You need to begin to put up food and the things it takes to live day by day. Learn to store food for this coming time and learn to rotate your food. As I have said, I do not know when this plague is coming. But, I know it will come. Because this is a plague that is passed through the air you will need to not be in contact with other people any more than you have to be. G-d can and will protect you when you have to be but donít tempt G-d. Remember Egypt? They were instructed to stay in their homes until the plague passed over. You could contact us as to some companies that you can get food from that is packed and has a long shelf life. We will be glad to share any and all information we have. You need to store up enough food for a 6 month period of time. It would not hurt to store up a year's supply if you can afford to do so. You will find that as this plague unfolds you will probably have people coming to you for safe keeping. At first, they are going to think that you have gone crazy. But as it happens, you will become that same personís savior.
Believe the Prophets...
...Intercede For Your Family
What about family that is no doubt going to think for certain that you have gone crazy? Will they die in this plague? That is a good question. I believe that our Father is the same today as He was in the past and will be in the future. He has always been consistent and what He did for one generation He did for the rest of the generations.
Genesis 18:16-33
16 And the men rose up from thence, and looked toward Sodom: and Abraham went with them to bring them on the way.
17 And the LORD said, Shall I hide from Abraham that thing which I do;
18 Seeing that Abraham shall surely become a great and mighty nation, and all the nations of the earth shall be blessed in him?
19 For I know him, that he will command his children and his household after him, and they shall keep the way of the LORD, to do justice and judgment; that the LORD may bring upon Abraham that which he hath spoken of him.
20 And the LORD said, Because the cry of Sodom and Gomorrah is great, and because their sin is very grievous;
21 I will go down now, and see whether they have done altogether according to the cry of it, which is come unto me; and if not, I will know.
22 And the men turned their faces from thence, and went toward Sodom: but Abraham stood yet before the LORD.
23 And Abraham drew near, and said, Wilt thou also destroy the righteous with the wicked?
24 Peradventure there be fifty righteous within the city: wilt thou also destroy and not spare the place for the fifty righteous that are therein?
25 That be far from thee to do after this manner, to slay the righteous with the wicked: and that the righteous should be as the wicked, that be far from thee: Shall not the Judge of all the earth do right?
26 And the LORD said, If I find in Sodom fifty righteous within the city, then I will spare all the place for their sakes.
27 And Abraham answered and said, Behold now, I have taken upon me to speak unto the Lord, which am but dust and ashes:
28 Peradventure there shall lack five of the fifty righteous: wilt thou destroy all the city for lack of five? And he said, If I find there forty and five, I will not destroy it.
29 And he spake unto him yet again, and said, Peradventure there shall be forty found there. And he said, I will not do it for forty's sake.
30 And he said unto him, Oh let not the Lord be angry, and I will speak: Peradventure there shall thirty be found there. And he said, I will not do it, if I find thirty there.
31 And he said, Behold now, I have taken upon me to speak unto the Lord: Peradventure there shall be twenty found there. And he said, I will not destroy it for twenty's sake.
32 And he said, Oh let not the Lord be angry, and I will speak yet but this once: Peradventure ten shall be found there. And he said, I will not destroy it for ten's sake.
33 And the LORD went his way, as soon as he had left communing with Abraham: and Abraham returned unto his place.
Abraham knew his nephew Lot was in Sodom. He began to intercede to G-d for Lot. We all know that Abraham was able to save Lot because of this. We will be able to pray and intercede for our families and G-d will protect them. If you donít want to do these things for yourself, then do it for your children! For those of you who believe this is all lies, then remember that I warned you as you are burying your dead.
G-d destroyed Sodom and Gomorrah because of the sin of homosexuality for an example to the world that He would not tolerate it. Most of the Church in America believes we are the apple of G-dís eye, and yet this prophet believes we are worse than Sodom and Gomorrah. If G-d does not judge this nation of America for this, then He will have to go back and apologize to Sodom and Gomorrah. G-d will judge this nation as I have spoken throughout the years.
The scriptures teach that there are two things that we are to fear here on this earth. There is the fear of G-d and the fear of His prophets. Oh how long L-rd is it going to be before the world understands this?
Believe the prophets and G-dís protection will cover you and yours.
Psalm 91:1-16
1 He that dwelleth in the secret place of the most High shall abide under the shadow of the Almighty.
2 I will say of the LORD, He is my refuge and my fortress: my God; in him will I trust.
3 Surely he shall deliver thee from the snare of the fowler, and from the noisome pestilence.
4 He shall cover thee with his feathers, and under his wings shalt thou trust: his truth shall be thy shield and buckler.
5 Thou shalt not be afraid for the terror by night; nor for the arrow that flieth by day;
6 Nor for the pestilence that walketh in darkness; nor for the destruction that wasteth at noonday.
7 A thousand shall fall at thy side, and ten thousand at thy right hand; but it shall not come nigh thee.
8 Only with thine eyes shalt thou behold and see the reward of the wicked.
9 Because thou hast made the LORD, which is my refuge, even the most High, thy habitation;
10 There shall no evil befall thee, neither shall any plague come nigh thy dwelling.
11 For he shall give his angels charge over thee, to keep thee in all thy ways.
12 They shall bear thee up in their hands, lest thou dash thy foot against a stone.
13 Thou shalt tread upon the lion and adder: the young lion and the dragon shalt thou trample under feet.
14 Because he hath set his love upon me, therefore will I deliver him: I will set him on high, because he hath known my name.
15 He shall call upon me, and I will answer him: I will be with him in trouble; I will deliver him, and honour him.
16 With long life will I satisfy him, and shew him my salvation.
The End Time Messenger
June 2005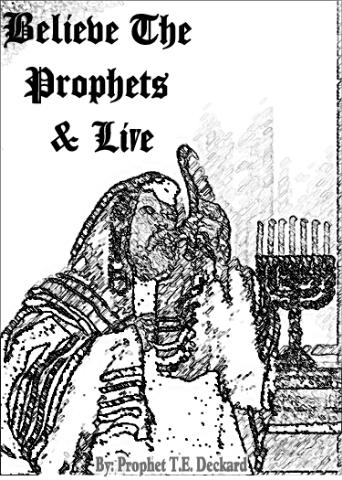 Believe the Prophets & Live
$15.00 Donation
Understand that it is only through the Prophets that G-d will guide His children in these last days.
We are at the greatest turning point this world has ever known.
We've come to the time when all hell is going to break loose on this earth.
You need to know how to come through this time of tribulation.
We are coming to the time when you will have to be guided by the P
rophet.
This generation will see it!
We are the ones in whom the ends are written!
A must for the End Time Believers!
We Accept: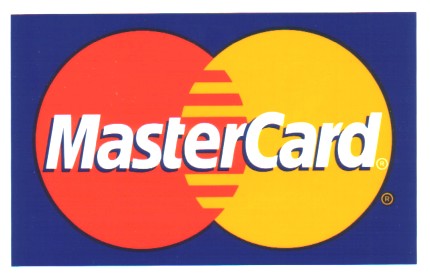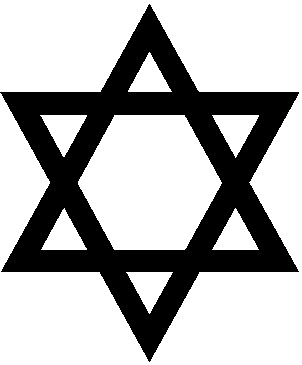 LET THOSE THAT HATH AN EAR
HEAR
WHAT THE SPIRIT IS SAYING